automatic straight filling line high precision metering pump filling machine, this machine is straight line filling machine. It is suitable for filling oil filling machine with round glass bottles and plastic bottles of various shapes. Filling principle is through the touch screen to set the PLC filling volume and filling speed, after conversion of PLC pulse number and pulse rate are sent to the stepper motor drive, drive after receiving pulse stepper motor according to the touch screen set to drive high precision gear pump to achieve filling process.
The filling amount set by the touch screen is controlled by the number of revolutions of the gear pump driven by the stepping motor. The filling speed set by the touch screen is controlled by the speed of the gear pump driven by the stepping motor. After a small number of parts are replaced and appropriate adjustments are made, glass and plastic bottles of different heights and diameters can be filled.
This machine is applicable to cooking oil ,lube oil,essential oil,coconut oil,vegetable oil,olive oil,palm oil,peanut oil,engine oil,soybean oil,sunflower oil,motorvycle oil, factory machine lubricating oil, fragrant oil and so on,which can finish bottle washing,filling and capping automatically.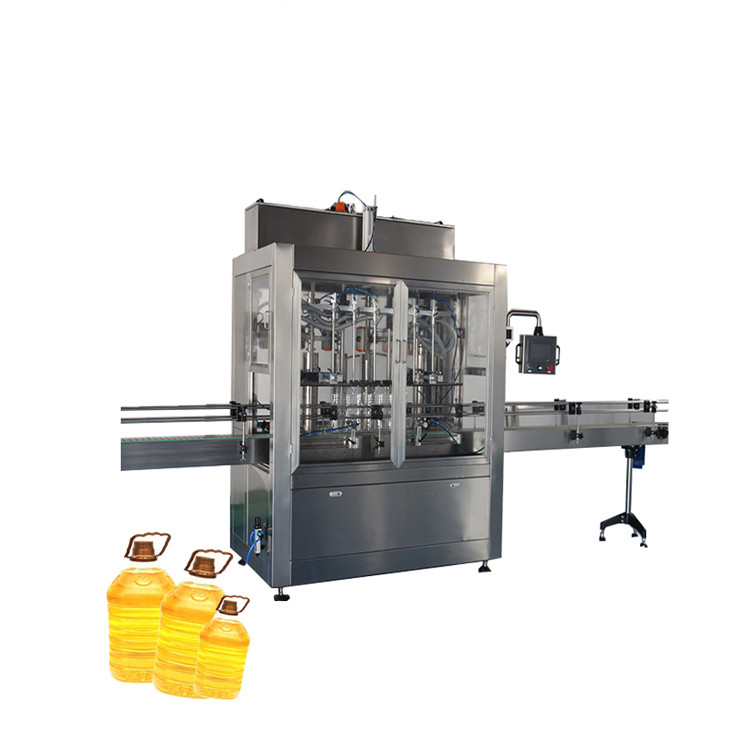 Number of filling valves: 4 - 12 heads;
Production capacity: 400 bottles/hour - 500 bottles/hour;
Suitable filling container size: Φ - Φ 165 mm or 65 bottles of 65-140 mm, height 180-360 mm;
Host power:1.5 KW;
Power voltage: three-phase four-wire 380v power supply;
Air source: 0.4-0.8MPa 0.1m3 / min;
Host profile size: 1500mm * 1200mm * 2000mm.
♦ High efficiency and low cost.
♦ Fully automatic control and high hygienci design.
♦ Excellent and stable priduct quality.
♦ Asving work space and manpower for users.
♦ Easy maintenance and high safety standard.
♦Full automatic multiple filling.
♦Fluent movements and easy operation.
♦The oil pipeline is made from theSUS304 .
♦It equiped with Sanitary ball valve.
♦The filling valve is special processing and it no drip.
♦The filling head can be changed with different size ,Therefore,it is suitable for filling different containers .
♦It can be connected to other equipment into a production line, Thus achieve full automatic.
♦The filling valve can rise and fall freely and is suitable for bottles of different heights.