Filling line characteristics:
The Corn Oil filling line equipment has the characteristics of stable, easy operation, high cost performance and high automation. Compared with the same kind of product, it has a longer service life, a complete set of ability, and a reasonable design of the whole line. Equipped with coordinated photoelectric and whole line interlocking devices, the whole line needs only 2-4 workers for operating. The technology used is the leading level in today's industry. The whole line of filling equipment meets the needs of production, unmanned and integrated production.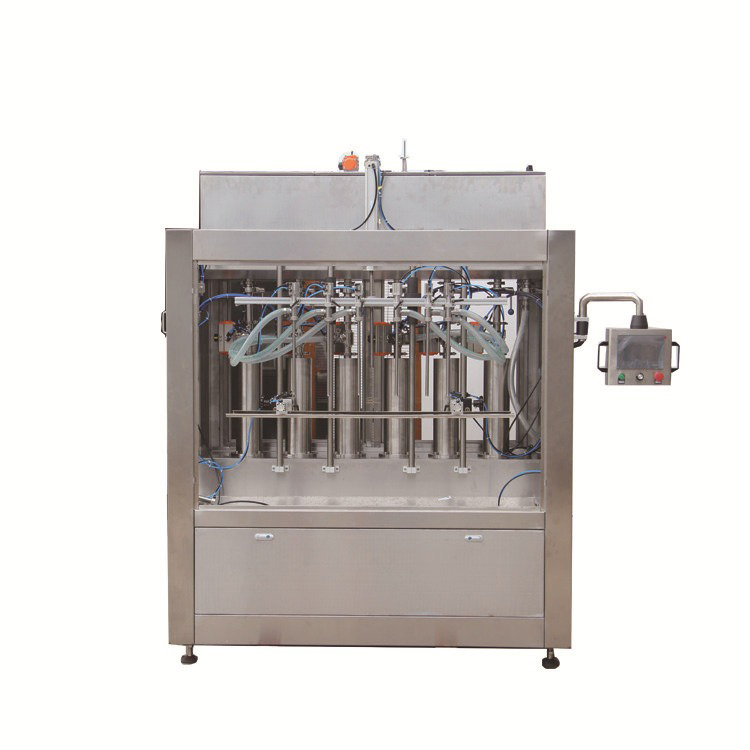 Features:
1. Vacuum Preventing Leaking System
2. No Bottle or Lack of Bottle, No Filling System
3. Photoelectric Sensor, Mechatronics Filling Adjustment System
4. Photoelectric Sensor, Material Level Control Feeding System
5. Stainless Steel Frame,Plexiglass as Security Cover
6. Control System: PLC/Electronic-Pneumatic Controlled
7. Operation Panel: "Intelligent" Colorful Touch Screen
8. Filling Accuracy:+-0.5%
9. Capacity Adjustment:All cylinders adjusted automatically combine single cylinder adjusted individually.
10.Container transport:Stainless steel frame and engineering plastic plate chain variable speed conveyor, with photoelectric sensor
Introduction:
NP series filling machine adopts the principle of microcomputer control flow design and
produce,is suitable for filling water to medium viscosity products,is the ideal equipment for
general cosmetic, liquor, medicine, food, pesticides,oil factory,etc.
Major Characteristics:
1. The flow control devices of each filling head are independent of each other, precision adjustment is very convenient.
2. The material of the machine material contact part can use the food grade material according to the products feature, in line with the GMP standard.
3. With regular filling, no bottle no filling, filling quantity/production counting function etc features.
4. Convenient maintenance,no need any special tools.
5. Using drip tight filling head,no leaking.
Material:
The entire structure of filling machine components are stainless steel material.
Connecting tubes are food-grade terflon material with very strong corrosion resistance.
Titanium stud processed by South Korea,its excellent verticality can guarantee the filling head up and down effectively.