Peanut Butter Pump Filling Machine
The linear filling machine for Peanut Butter Bottle is widely used in the food, cosmetic, pharmaceutical, oil and other industries, is specially made for filling all kinds of viscous liquid , such as peanut butter, petroleum Jelly, tomato sauce, paste, meat paste etc and also can filling the honey, oil, juice, water etc.
The machine adopts piston pump for filling materials. By adjusting the filling time by touch screen, it can fill all of the bottles in one filling machine, with quick speed and high precision.
The linear filling machine for Peanut Butter Bottle can be customized by customer, It can be direct connected with the former production machine, filling machine and the label-attaching machine and the latter packing machine to form a complete set of produce line.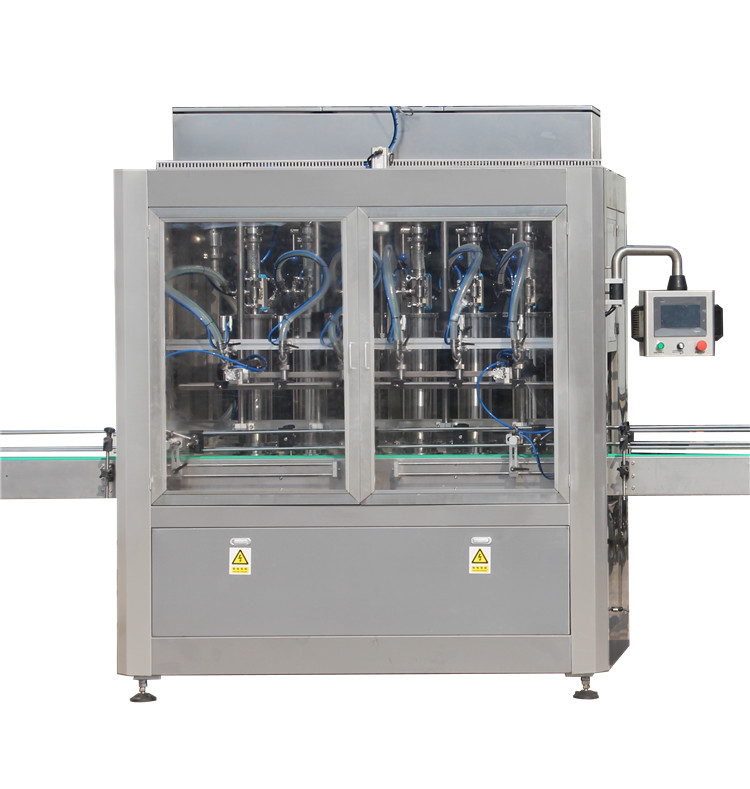 Our advantages:
We provide our customers with all components for free within 1 year.
We offer long life maintenance, technical support is available, offer videos of installation and debugging.
Our machine is easy for installation. We will take pictures of the disconnect parts of machines, youcan install the machines according to pictures. We attach marks on the machines that need to connect,you caninstall the machines by yourselves. It is cost saving for you.
The spare parts are optional according to customers needs.
The handle of the machine can be freely and conveniently turned to adjust so that various types ofbottles can be used.
filling all kinds of edible oil, such as: peanut oil, soybean oil and rapeseed oil, salad oil, sesame oil, olive oil, and so on. vial packaging, packaging is a small oil ideal automated production equipment.
Technical parameters:
Filling head count: 8
Filling speed :1000-2000 (b / h)
Filling range :1-6 liters / 0.1-1 liters (can be customized according to user requirements)
Filling accuracy: ± ≤ 0.5% FS
Power Supply: 220/380V
Pressure :0.5-1.0 Mpa
Principle features:
---
1, Filling machine for filling a variety of oils, such as lubricating oil, edible oil filling.
2, the model is equipped with touch-screen, conveyor belt 8 meters Frequency Control, automatic sensor-based sealer, vacuum anti-drip device.
3, the filling machine has a beautiful shape, filling, high precision, convenient adjustment and easy to operate and so on.
4, man-machine interface, directly set the filling volume;
5, PLC program control, inverter speed filling line;
6, high-precision positive displacement flowmeters, quantitative accurate and reliable;Slow down after two-speed filling, to prevent liquid overflow