Usage and Features:
This machine is mainly used for syrup, drinks, soybean sauce, vinegar, cod-liver oil, olive oil, liquid calcium, wine, liquid fertilizer, essential oil, toner, hair oil, laundry detergent, ink, disinfectant, injection, industrial alcohol and various medical liquid filling and capping.
1.Adopts plunger type metering pump filling, high precision; The structure of pump adopts fast
disassembly institutions, easy to clean and disinfect.
2.PLC control system, color touch screen display, machine has function of counting automatically.
3.The filling nozzle was equipped with drip-proof device.
4.When filling liquid, the filling nozzle dive into the bottom of bottle, rising slowly, it can effectively prevent bubbles.
5.Main electrical elements adopts foreign well-known brand.
6.Machine body is made of 304 stainless steel, full compliance with GMP standard.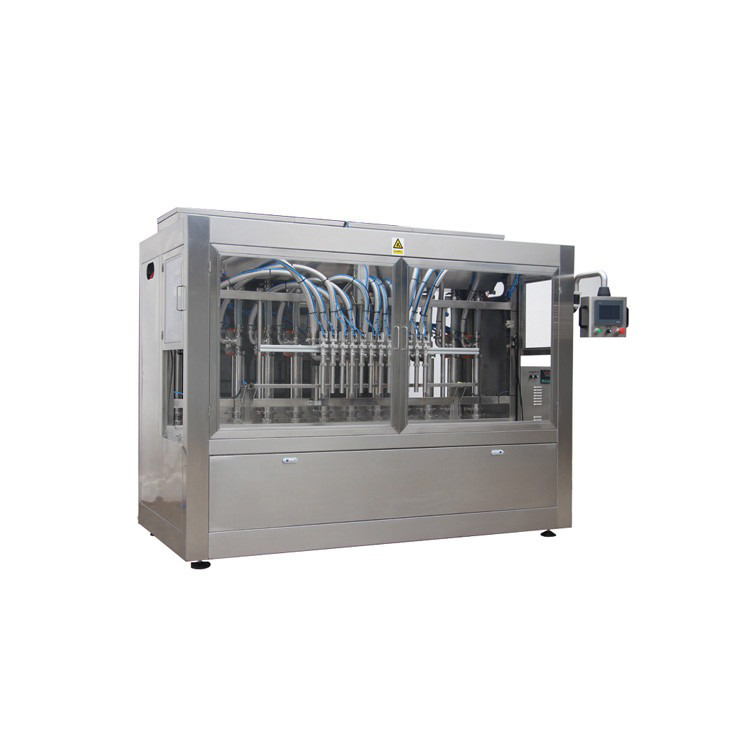 This machine is carefully designed for lubricating oil, salad oil, oil and chemical pesticide packaging 1 rose to 5 L arbitrary adjustable of a new generation of packaging equipment, using microcomputer PLC automatic control, man-machine interface, fully enclosed, dive type filling.
High precision measurement, filling range is large, compact structure, smooth operation, suitable for various shapes of container filling.
Liquid pipeline cylinder disassembly, cleaning, convenient and quick.
All contact material parts are made of high quality stainless steel, the main electrical components are imported, the whole beautiful and generous, in accordance with the GMP standard requirements (the principle, function and characteristics of the machine with the CGF-8L type of the same).
Note: the filling range and speed can be designed according to user needs to design different filling head number.
The world famous brands of electrical and pneumatic components, low failure rate, reliable performance, long service life.
Adopt high strength stainless steel frame, easy to assemble and disassemble, easy to clean, in accordance with the requirements of GMP
The filling volume and filling speed adjustment is simple, by the touch screen operation and display, beautiful appearance;
Is equipped with the bottle filling function, automatic feeding control level;
The need to replace parts, you can quickly adjust a variety of different kinds of bottles;
The filling head is equipped with a special leakage proof device, filling out the drawing, leaking.
Note: the filling range and speed can be designed according to user needs to design different filling head number.