Equipment Brief Introduction:
This Production Line is a whole Automatic Vinegar filling production line solution;
The Machine Type, Number Of Machines, Speed, Capacity, Size, Etc. Of The Production Line Can Be Customized According To The Customer'S Production Needs; We Can Develop A Professional Integrated Filling And Packaging Production Line Plan For The Customer.
This Automatic Filling Line can be customized to fill various products,such as Soy Sauce, Peanut Oil, Blended Oil, Chili Sauce,Ketchup, Vinegar, Cooking Wine And So On.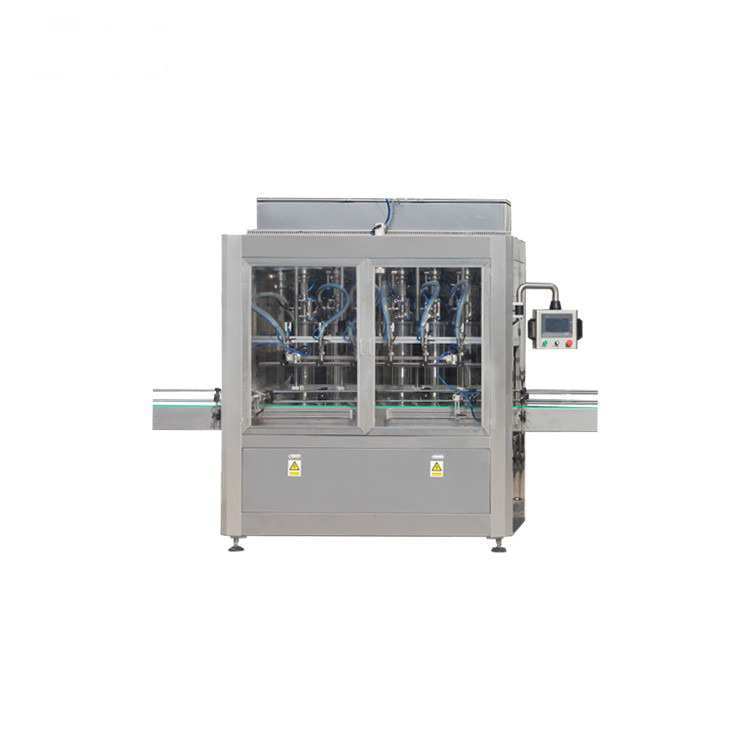 Features of Vinegar bottling machine / filling line:
1.This filling machine is mainly used for wine and sauce filling operation.
2.The machine is combined of rinsing, filling capping, the whole process is full automatic, and suitable for glass bottles and aluminum steal-proof caps for filling vodka wine sauce.
3.The applicable bottle type can be adjusted freely and conveniently, and easily operated.
4.The filling type adopted new type balanced filling makes the filling quick and steady. That is why the machine has more capacity and benefit compared with other machines in the same specification.
5.The machine adopts advanced programmable controller PLC and makes the machine run automatically, and bottle inlet adopts air transfer device, and bottle output adopts conveyor chains with speed adjustable motor.
6.Cooperation with transducer of main machine makes the bottle run smoothly and reliably.
It is convenient to operate with higher automation due to every part of the machine is inspected to run with photo electrical detector.
7.The machine is ideal-preferred equipment for beverage manufacturers.
FAQ
Q:What industry is your product suitable for?
A:The product line we develop and produce is suitable for the production of various, liquid, paste, powder, solid products. The specific product materials, functions, specifications and production capacity can be customized according to customers' products and requirements.
Q: What if the machine fails during use?
A:Our products will be carefully inspected and ensured before delivery, and we will provide the correct instructions for use of the products; in addition, our products support lifetime warranty warranty service, if there are any questions during the use of the product, please consult our work. personnel.
Q: When can I get my machine after paid?
A: The delivery time of a production line is generally 60 days; the product is about 15-30 days.We will deliver it on time as the date we agreed both side.
Q: How can I install my machine when it arrives?
A: We will provide installation videos and tutorials, or send our engineer to your side ASAP you get all your machines ready , for testing and teaching your technicians how to run the machines.
Q:What payment do you accept?
A: We generally use T/T or L/C, and we can negotiate the payment method.