This automatic edible oil filling line comes with everything you need to get your edible oil bottling line up and running. It is designed to bottle 40-50 bottles per minute depending on product viscosity. Start your project today by filling out the form.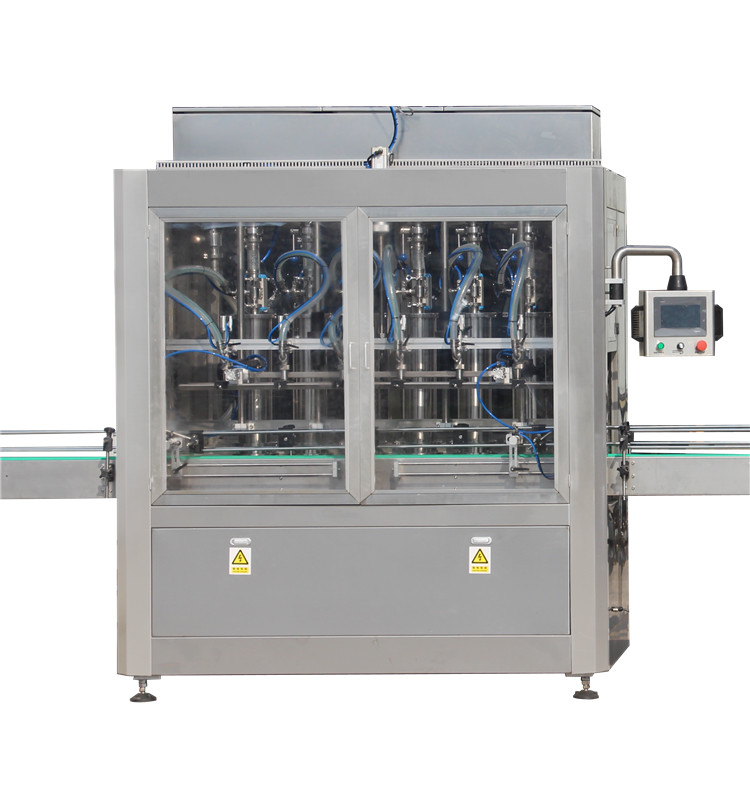 Oil Filling Packing Machine Features
1. Uses quantitative filling principle, high-precision filling, convenient adjustment, easy to operate.
2. Uses PLC Programmable Control(Digital Display).
3. Simple structure, pleasing in appearance, low area occupation.
4. The filling speed can be adjusted to eliminate the phenomenon of the overflow bottle, high filling efficient.
5. The whole machine is made of corrosion-resistant stainless steel to meeting health requirements and ensure the filling process clean.
6. The filling capacity is easily set and can meet the requirements of different filling capacity.
Product Description:
1. Adopting piston filling, with high filling precision & easy to disassemble & maintain. There are gravity-type filling, overflowing-filling, weighing-type filling & pump type filling as option for different packages & materials.
2. With humanized design & linear bottle-enter-exit, easy & quick to adjust whole system to meet different bottles production.
3. Filling volume can be adjusted directly via touch screen;
4. Filling speed is easy to control, no bottle no filling. With auto liquid supply system to meet continuous filling & anti-drip filling nozzles to ensure no dripping.
5. Filling is designed with one-button washing function, & can meet CIP online washing if required.
6. Multifunctional capping system is suitable for various threaded caps, like flip caps, spray pump caps, & 3/4-circle caps etc, easy to adjust to meet different bottles, capping force is adjustable, no damage to bottles & caps.
7. With PLC, touch screen to operate, auto counting & with formula saving.
8. All moving parts or electrical, or pneumatic parts are world-famous brands, which ensures the stable & durable running.
9. Mainly made from top-quality stainless steel, all steel parts contacting liquid are stainless steel 316, delicate & durable.
10. Can be customized to the anti-corrosion filling capping line.
11. Can be designed & made strictly based on CE standards.