peanut butter filling machine---product introduce
The production line is suitable for the filling of small and medium-sized glass/plastic bottles. It is suitable for the filling of sauces and viscous materials. The contact parts of the materials are all 316 stainless steel, and the whole machine is made of 304 stainless steel, which meets the food hygiene standards.
The machine is reasonable in design, compact in size, vertical structure, saves space and is easy to operate. The pneumatic parts are made of pneumatic components from Germany FESTO and Taiwan Airtac. The filling valve is controlled by a pneumatic valve and has a higher filling accuracy. The filling volume and filling speed can be adjusted freely. The filling head adopts anti-drawing and lifting filling device.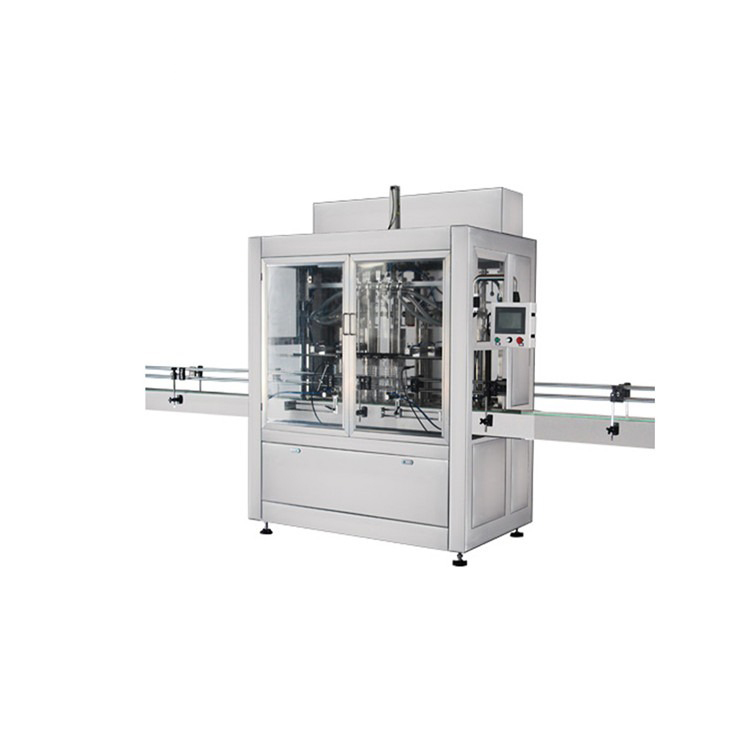 How It Works:
The piston is drawn back in its cylinder so that the product is sucked into the cylinder. A rotary valve then changes position so that the product is then pushed out of the nozzle instead of back into the hopper.
Application:
This type of piston filler is best suited for viscous products that are paste, semi paste, or chunky with large particlates. These piston fillers are built to meet food grade standards and can also handle various chemical applications.
Examples:
Heavy sauces, salsas, salad dressings, cosmetic creams, heavy shampoo, gels, and conditioners, paste cleaners and waxes, adhesives, heavy oils and lubricants.
Advantages:
This lower cost conventional technology is easy to understand for most users. Fast fill rates are achievable with fairly thick products. Warning: this technology is nearly obsolete with the advent of servo positive displacement fillers.