As the name suggests, Automatic Edible Oil Filling Line is a setup of multiple machinery arranged in line and synchronization with one other so as to perform the ultimate function of edible oil filling. We are suppliers and exporters for the complete Edible Oil Filling Machines.
Our range of Automatic Edible Oil Filling Machines comprises of Continuous Liquid Filling Machine as well as Servo Controlled Liquid Filling Machine. These machines are fabricated by our team of qualified engineers and technicians with the use of finest technology and components to bring out a superlative quality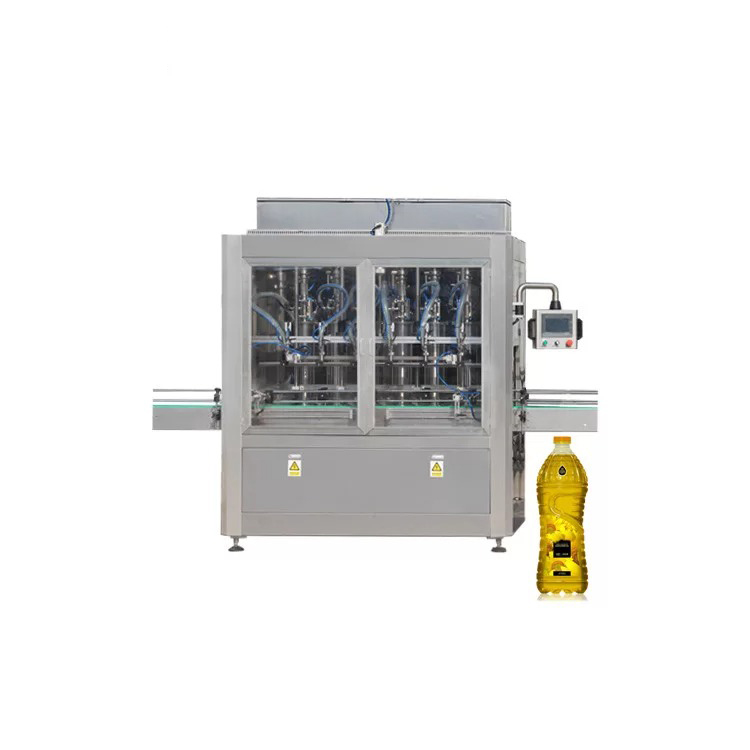 The oil filling Machine is having its own pumping system to connect the machine with the main / buffer tank of the product. The volume to be filled is measured by the measuring devices, which consist of multi piston positive displacement volumetric device. The flow of liquid is to be measured and converted in to electronic pulses by encoders and controlled by PLC (Programmable Logic Controller). All settings to be done on the MMI (man machine interface) keypad which is provided on the electrical control panel.
---
Standard Details for our VKPAK Edible Oil Filling Line
Versatile: The machinery is very versatile to fill different capacity range from 500 ml to 5000 ml. It has minimum adjustment requirement.
Drip Free: The oil filling Machine is 'drip free' with well designed nozzles ensuring repeat recycling of sequences. Diving nozzle arrangement with drip tray is provided.
Accuracy: Repeat accuracy of filling is +/-0.25% of the filled volume.
Safety Device: "No bottles no fill" sensor will ensure that filling does not take place when bottles are not in alignment with the nozzle.
Standard of Construction: Filling Machine is mainly constructed from Stainless Steel and also made available with M.S powder coated cabinets. All other machines are absolutely SS.
Electronic Controls: The oil filling machine will be equipped with PLC for controls of function of the machines. Alphanumeric LCD display MMI (man machine interface) is used to display various messages.
Standard Accessories: The oil filling machine will be equipped with a separate pump set as well as motorized slat chain conveyor made in SS.
Change Over: Minimum change over time is required while changing from one pack size to other pack size.
---
Advantages of VKPAK Automatic Edible Oil Filling Line
Full Stainless Steel Fabrication suitable for Edible Oils
Known for Excellent Efficiency
Robust Construction
Very Reasonable Pricing of Line
On-Field Installation Support
After-Sales Activity for Spares and Components
Working Successfully in Several Countries Abroad