Application:
This machine is suitable for filling and capping semi-liquid products without or with small particles: such as sweet chili sauce, beef paste, bean sauce, mushroom sauce, tomato sauce, peanut butter, jam, honey, sauce, shrimp paste, shampoo, body wash, liquid detergent, dishwashing liquid, etc.
Performance feature:
1. Working process: bottle feeding-- filling -- capping -- labeling -- ribbon printing/ink jet printing (optional).
2. Nice machine appearance, reasonable structure, this is the most advanced new design thick sauce filling machine at present, machine can be customized with 4/6/8/12/14/etc filling heads according to customer's production capacity. Its has advantage of high capacity, good safety performance and high degree of automation.
3. Plunger pump filling system has features of no adsorbing drugs, good chemical stability, high temperature resistance, corrosion resistance, abrasion resistance, long service life, has unique advantages when fill some corrosive liquid.
4. Used for various viscosity liquid filling, frequency control, automatic count.
5. Main electrical elements adopts foreign well-known brand.
6. Machine body is made of 304 stainless steel, full compliance with GMP standard.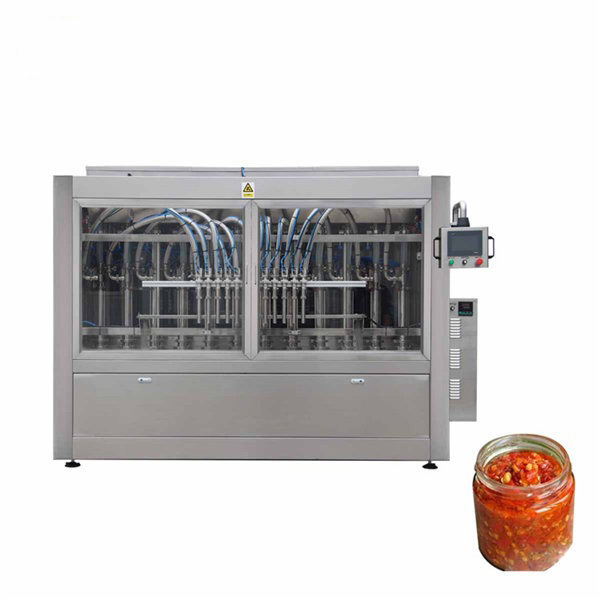 Filling Line Details
This Automatic Sauce Filling Line comes with everything you need to get your liquid sweetener bottling line up and running. It is designed to bottle 50 bottles per minute. Start your project today by clicking request a quote below!
Line Name: Automatic Sauce Filling Line
Automation: Automatic
Filling volume:50-1000ml
Bottles Per Minute: 30-60
Machines Included:
Bottle Feeding Turntable
Automatic 16 Head Servo Filling Machine
Automatic 8 head Rotary Capping Machine
Electromagnetic Induction Aluminum Foil Sealer
Vertical Self-Adhesive Round Bottle Labeling Machine
Bottle Working Table Rolling Type
Automatic Linear Packing Machine