Full-Automatic Antiseptic Filling Machine which is made by VKPAK Machine has a reliable quality.VKPAK Machine is a beverage machine supplier from China.
Brief Introduction of Full-Automatic Antiseptic Filling Machine:
Suitable material: Bleach, acid liquid, 84 disinfectant, gel water, toilet cleaner, especially used in the liquid filling of strongly corrosion liquid and cosmetics which can't touch the metal.
Contact liquid parts are use anticorrosive non-metallic material and with diving function.
This Vertical filler is a high-tech filling equipment integrating on the PLC microcomputer programmable control, and photo electricity transduction pneumatic action.
The machine suits for the filling of different sizes of vessel may change the filling sizes within a few minutes. Short filling circle, high production capacity.
User may choose the filling volume and decide the filling heads per own production capacity.
The precision time of the pneumatic valve filling may set to 0.01second, can make the measurement precision control within ±1%, to decrease unnecessary material loss and enhance the economic efficiency.
Each filling-head's measurement may be individually adjusted torealize the same filling measurement.
The machine set such function: having counting program ofbottle-feeding, doesn't fill as there is not bottle or the counting doesn't attain a predetermined position, can start filling only when the counter records that the bottle number is same as the setting filling number.
More or less of the filling volume, may initially adjust to the neededfilling volume, then micro adjust, can get the ideal filling measurement precision.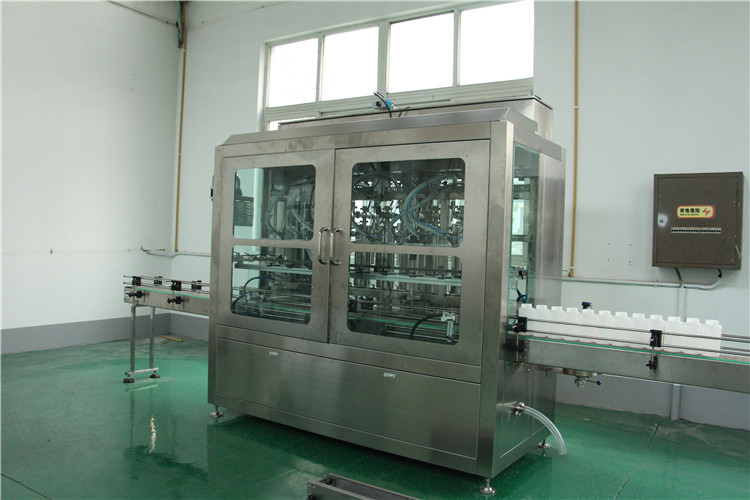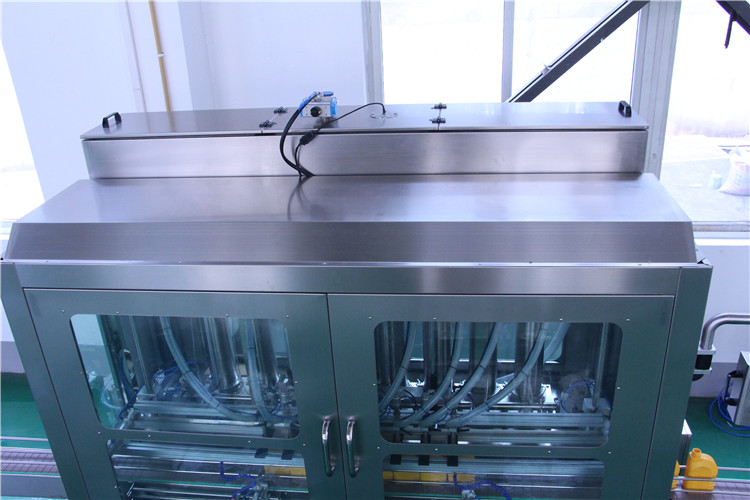 Technical Parameter:
| | | |
| --- | --- | --- |
| No. | Full-Automatic Antiseptic Filling Machine | Technical Data |
| 1 | Capacity | 1000BPH for 350ml bottles |
| 2 | Filling Range | 50ml-500ml |
| 3 | Accuracy | ±1% |
| 4 | Power | 1.1KW |
| 5 | Voltage | 220V 50HZ |
| 6 | Weight | 850KG |
| 7 | Dimension | 2000*1300*2300MM |
Main Configuration to Full-Automatic Antiseptic Filling Machine:
| | | | |
| --- | --- | --- | --- |
| Descriptions | Brand | Item | Remark |
| Servo motor | Panasonic | 1.5KW | Japan |
| Reducer | Fenghua | ATF1205-15 | Taiwan |
| Conveyor motor | ZhenYu | YZ2-8024 | China |
| Servo drivers | Panasonic | LXM23DU15M3X | Japan |
| PLC | Schneider | TM218DALCODR4PHN | France |
| Touch Screen | Schneider | HMZGXU3500 | France |
| Frequency Converter | Schneider | ATV12HO75M2 | France |
| Photo electricity of inspect bottle | OPTEX | BRF-N | Japan |
| Pneumatic Element | Airtac | | Taiwan |
| Rotary Valve | | F07/F05 | No Need for Oil |
| Pneumatic actuator | | F07/F05 | No Need for Oil |
| Low-Voltage Apparatus | Schneider | | France |
| Proximity switch | ROKO | SC1204-N | Taiwan |
| Bearing | | | China |
| Lead Screw | TBI | | Taiwan |
| Butterfly valve | CHZNA | | China |