Filling System:
This Ketchup Filling Machine is suitable for liquid without carbonated, semi-fluid qualitative filling. Counting of bottles inlet qualitative filling, bottles outlet is done automatically. Especially suitable for SL, EC, SC, edible oil, lubrication oil. It is an ideal equipment for foodstuff, medical, cosmetic, fine chemical, pesticide industries.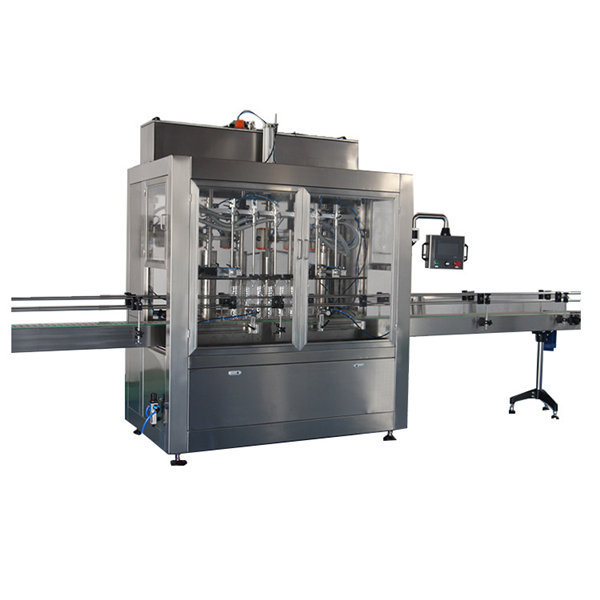 1. It adopts advanced mechanical and electrical integration technology. Any filling specification can easily be done by changing parameters in touch screen. Not only the filling volume of 20 filling heads can be changed substantially, but also each filling head volume can be changed finely.
2. With touch screen technologies, which make operation of machine steadier, convenient, the human machine interface is more friendly. Photoelectric sensor, approaching switch and other elements are using international famous brand. No bottle no filling, the machine can stop automatically and alarm when bottles get blocked.
3. It uses the method of submerging filling; various sealing rings used can meet different characteristics of products requirements.
4. The design and production of this machine is in accordance with GMP standard requirements. Easily dismantle, clean and maintain. The parts which contact filling products are made of high quality stainless steel. The whole machine is safe, environmental, sanitary, adapting to various kinds of working places.
Automatic Screw Capping Machine
This machine applies and torques caps into containers . It's suitable for various material and figure containers . Such as plastic bottles , glass bottle , and metal bottle . If we want to change different material or figure bottles and caps for tightening , we do not need change any components . We just adjust the position of several components . No bottle no cap falling .
Cap unscrambler machine , conveyor ,cap screw parts, bottle clamping strap can be conversion adjusted to meet the tightening requirements for various bottles and caps . The machine is made of good type stainless steel , also applied to GMP standard requirement . (custom-tailoring diversified for special specification )
Automatic Single Head Capping Machine
The machine adopts linear bottle feeding, PLC program control, double cylinder bottle positioning, can clear up and drop the cap automatically. Single-head machine in the double action lifting cylinder to grasp the cover firstly, then screw cap. The screw cap adopts the air expansion type catch cap, and is equipped with clutch device, the screw cap will not damage the bottle cap, the machine is suitable for the screw cap of the barrel with large diameter.
1.Servo motor is used to control the torque of the rotary capping head,It won't damage the bottle and the caps. The action of grasping the cap is completed by the air cylinder.
2.According to the special requirements of customers,the cap lifting machine can be replaced with a cap unscrambler and conveyor belt.Much more easier to adjust when change the caps and bottles.
3.Belt type conveyor for the caps,the speed and stability of cap conveyor are increased, and won't occurs caps missing
4.On the belt conveyor, the no-aluminum foil cap remove device can be installed to remove the cover without aluminum foil.